ALERT: Friday, April 7th, 2023, garbage collection will be moved to Thursday, April 6th, 2023, in light of the Good Friday Statutory Holiday.
Garbage pick-up begins at 7:00 am. Garbage must not be set out before 5:00 am on garbage collection day as unattended garbage attracts bears and other wildlife.
ANSWERS TO FREQUENTLY ASKED QUESTIONS: click HERE
---
Scroll to #garbage-collection-schedule
CITY OF KIMBERLEY GARBAGE COLLECTION SCHEDULE
Route I – Tuesday (approx. 860 pick up's)
All of Blarchmont (upper & lower)
Norton/Swan Area
Upper Chapman Camp
Rotary Drive
Kimbrook Crescent
Route II – Wednesday​ (approx. 850 pick up's)
Marysville
Sunflower Drive
Lower Chapman Camp
Route III – Thursday (approx. 880 pick up's)
Townsite
Morrison Sub
Wallinger Ave to Burdett Street
Mark Street to Rotary Drive
Church Avenue and Downtown
Route IV – Friday (approx. 370 pick up's)
For more information, please contact the Operations Department at 250.427.9660 or Operations@kimberley.ca.
---
Scroll to #garbage-cart-placement
HOW TO USE CARTS FOR PICK UP ON YOUR COLLECTION DAY
FRONT STREET PICKUP: Most residential garbage collection is street-front pickup (rather than alleys/lanes). There are some residential locations where street-front is not feasible and exceptions will be made and communicated to those residences by City Staff
Place carts out for collection no earlier than 5:00am and no later than 7:00am on your collection day
All regular household garbage may be placed inside the cart.
Waste must be bagged and tied. This will prevent garbage from becoming airborne as well as help keep your cart clean. Anything that is placed inside the cart must be able to fall freely when dumped.​
Do not over-fill your cart.
Lid must be closed completely.
Ensure 1 metre clearance around the entire cart.
In order to prevent odours and avoid attracting bears & other wildlife, residents will still need to securely store their garbage collection carts until their neighbourhood collection day. Please ensure that you:

Wash your cart out regularly with a mild non-toxic detergent.
Place your garbage into garbage bags inside your cart
Keep the lid closed at all times.
The maximum weight load for a cart is 59kgs (130lbs). Please keep in mind that excessive weight in your garbage cart could result in damage to the cart.
---
Scroll to #collection-map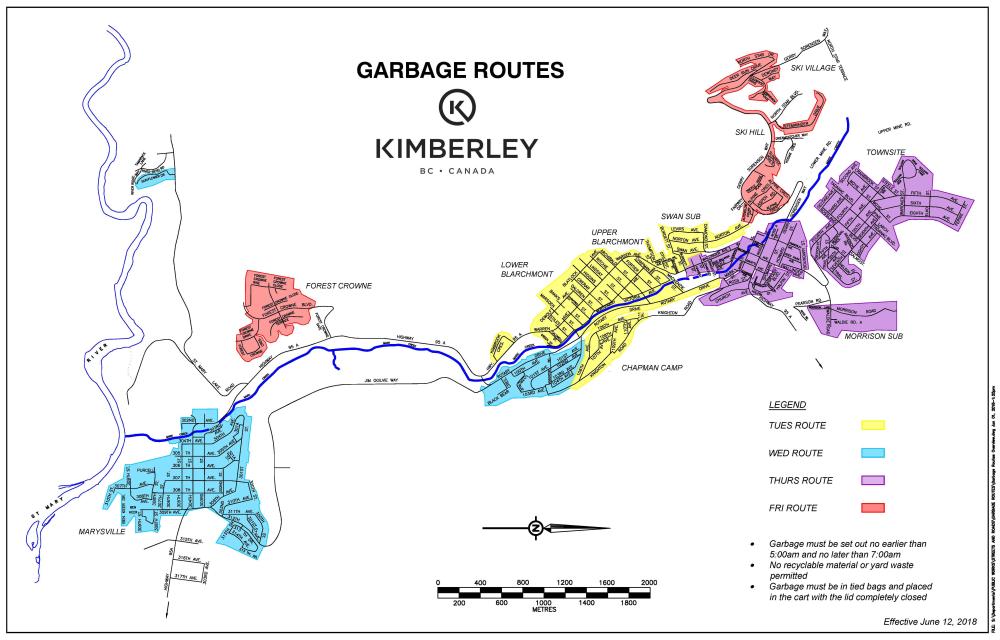 ---
Scroll to #2023-holiday-collection-schedule